Dakota Resources Launches Annual Giving Campaign
We believe the future of rural exists here, right now, and that it's up to all of us to shape it, together.
In this spirit, Dakota Resources launched our inaugural Annual Giving Campaign in September, with a goal of financially bolstering our programs and our work to empower rural communities. With an initial goal of 100 supporters by the end of 2023, we're already halfway there, and today, we ask you – our readers, followers, and partners in a thriving rural – to show your support for us.
Over the last 27 years, Dakota Resources has passionately supported more than 110 rural community organizations in our mission to connect capital and capacity. We've always had rural at the heart of everything we do, which is why we've invested $30+ million in rural community and economic development organizations, as well as $460 million in New Markets Tax Credit allocations.
As Rita Anderson, former Director at De Smet Development Corporation, shared with us, our work to support a thriving rural makes Dakota Resources unique, just like the communities we serve.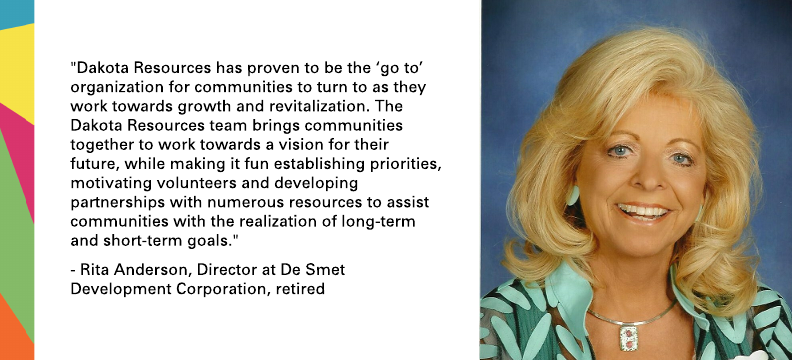 As someone who is connected to our work, we know that you understand our impact better than anyone and that we've been doing this work together. And you know that when we empower rural leaders, organizations, communities, and regions through capital and capacity, that creates a path toward thriving rural communities.
As a result of our programming, we see rural areas thriving.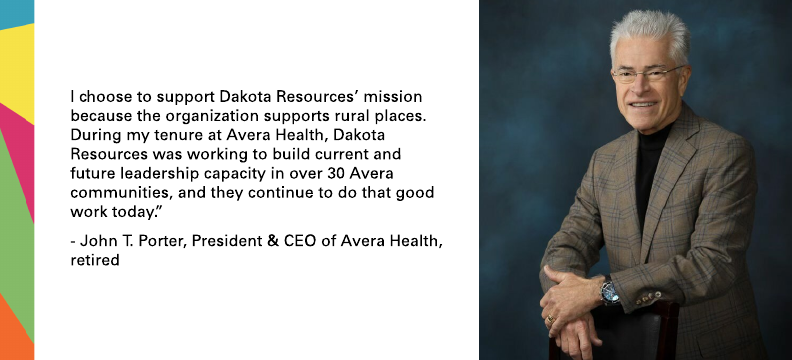 With your support, we can continue to work to provide development and financial services to support rural people, businesses, and communities. Your donation will allow us to expand our programs and to do even more for those who see the potential in their community.
"We often get asked from communities and individuals that we have worked with how they can give back to Dakota Resources. We created this Annual Giving Campaign as a way to do that," said Kristi Wagner, Director of Organization Relationships & Community Coach. "Anyone can show your support by making a donation of any size. Through your kindness and generosity, Dakota Resources is able to continue working toward our vision of a thriving rural."
By supporting our annual giving campaign, you can make a meaningful impact on the lives of individuals and families in rural communities. Together, we can create a brighter future for everyone.
Please give as you feel led anytime throughout the end of the year; even contributions of $10 are appreciated. The easiest way to donate is by clicking the button below.
To a thriving rural!
Share This Story, Choose Your Platform!