Virtual Coffee Breaks Strengthen Rural Ties
Coffee is known to many as the lifeblood of the working class, but when the world meaningfully changed in March 2020 in response to the COVID-19 pandemic, the importance of a morning cup of coffee took on a new significance for those connected with Dakota Resources' Learning Network.
On March 20, 2020, Dakota Resources' Learning Network Team began offering Virtual Coffee Break sessions, designed to function as a way to help connect economic development professionals and other rural shapers together to troubleshoot and to share the day-to-day questions and solutions that marked the early days of the COVID-19 pandemic. The first sessions developed organically as a way for people to connect on a daily basis and bring forward the overwhelming questions from their communities.
They were faced with questions like, "How should I respond to a business owner who says, 'I'm afraid the pandemic will force me out of business?"  And "How do I continue to do my job and meet everyone's expectations when I can't meet with people in person?" New questions emerged each session.
Later, these Coffee Breaks transitioned to a twice-weekly regular occurrence and still continues now. Over the course of the past year, almost 150 Coffee Breaks have been hosted, with over 2,000 individuals popping into the virtual room. There aren't many pandemic-related questions in recent weeks, but it's still a place where people can get answers and good advice to real-world, everyday challenges.
"The Learning Network wanted to provide a place where Economic Development Professionals would have access to relevant, accurate information, a chance to build relationships among their peers and continue growing and developing professionally," said Mike Knutson, Learning Network Orchestrator and Community Coach for Dakota Resources. "In rural communities, it is common for there to be one person per community working on economic development. Therefore, when problems or questions arise, they often do not have anywhere to turn for counsel. These virtual Coffee Breaks helped people overcome the emotional side of being more isolated than ever before, and it helped solve the real-world challenges created by the pandemic."
Due to its early success and fervent following, a survey was conducted in early July 2020 to better gauge what practical tips participants were gleaning from these virtual working sessions. One respondent to the survey, and a frequent participant in the Coffee Break sessions, was Key Account and Community Relations Executive for Sioux Valley Energy, Jay Buchholz.
"One of the best – and only – ways to network during the pandemic was through Dakota Resources' Coffee Breaks," Buchholz said. "Since Sioux Valley Energy is part of Dakota Resources' Learning Network, it was important to me to stay connected to the economic and community development side of things. The Coffee Breaks facilitators brought forth a bunch of different topics that I wouldn't have thought of, such as bringing in legislators from Pierre or inviting other non-profits doing the community development work to speak. Sometimes there was no guiding topic, which allowed for a freeform discussion dedicated to surviving the pandemic. It was a great way to stay connected."
Some of the most valuable topics discussed in the initial months of the COVID-19 pandemic were, unsurprisingly, related to tactics that businesses could utilize to better weather the effects of quarantine and lockdown. This meant bringing in experts to discuss timely subjects like the Paycheck Protection Program (PPP) loan opportunities and financial support through the Coronavirus Aid, Relief, and Economic Security Act (CARES Act).
Apart from the pandemic-related information, various other themes emerged from the discussion, including conversations about housing support, learning about federal and state resources, funding challenges, and community trends.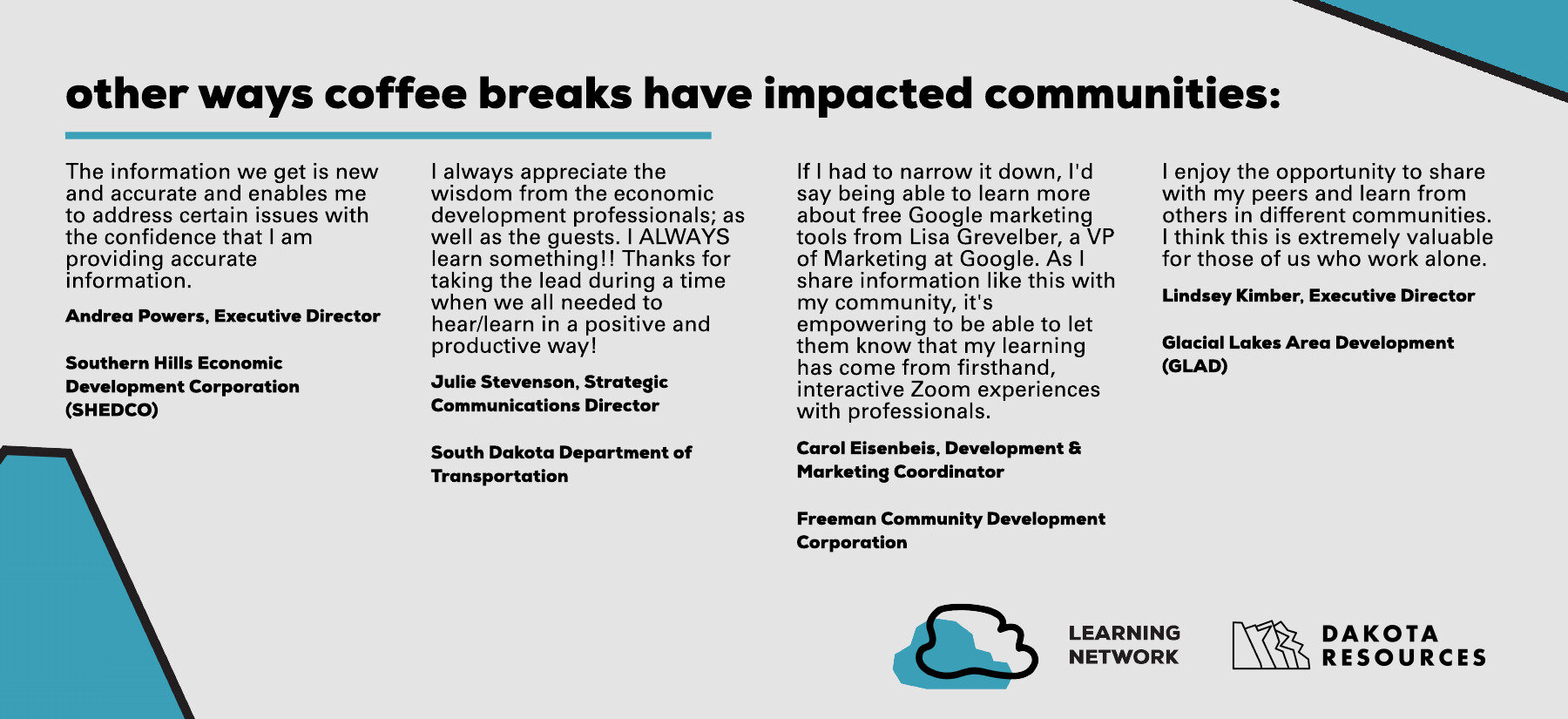 Vinegar consultant and rural shaper Lawrence Diggs appreciated the opportunity to connect and collaborate with others in a solution-focused manner.
"The Coffee Breaks are a learning moment and a teaching moment," said Diggs. "It's an opportunity to learn things, but occasionally, I had an opportunity to bring a perspective to the group that they would not otherwise be privy to. I've encouraged other people to show up and to be an active part of the group. I often tell them that sharing their problem may be the biggest contribution made at that meeting, and that other people may have that problem, too."
Dakota Resources has played a more behind-the-scenes role with these Coffee Breaks, and it is the people that choose to show up that makes them so special. Attendees come with the understanding that nobody has all the answers, but we can all solve problems by collectively leaning into the knowledge and wisdom of everyone in the group.
The Coffee Breaks even drew a national audience. During her appearance with her husband, James, at Dakota Resources' RuralX conference on June 16, 2021, Deborah Fallows, linguist and co-author of the book Our Towns, expressed her appreciation for Dakota Resources' Coffee Breaks.
"Every week, I said, 'I have to stop what I'm doing; it's time for the Coffee Break in South Dakota,'" Fallows said. "You all were my lifeline through COVID; every week, I could come and listen to and be part of your conversation with my two dozen new best friends in South Dakota. Watching this group develop a sense of trust in each other and listen to each other's ideas as they were connecting – the synergy from one town to the next, and watching you all learn and getting to be part of that as a listener – I wouldn't have made it through the last year without you."
Another aspect of the Coffee Break sessions that the survey aimed to assess is the overall usefulness of the information shared and its applicability to each rural shaper's specific community and sphere of influence. The survey results indicate that respondents are receiving information that is accurate, easily available, and unique when they attend the virtual Coffee Break sessions. In addition, attendees have shared that they also are then taking that information and sharing it or taking action on a topic within their own communities.
"Respondents have shared that they feel more confident in sharing new ideas learned through the virtual Coffee Break sessions because they have been vetted by working professionals and because along with the ideas, they've learned about the challenges and the rewards of doing such work from others in similar organizations or communities," said Paula Jensen, Vice President of Program Development and Community Coach for Dakota Resources. "We're grateful that the virtual Coffee Breaks are effective in meeting the need for both social connection and pandemic-related problem-solving for our Learning Network members."
Diggs echoes this in pointing to the lasting impact of the Coffee Breaks.
"The Coffee Breaks were better than any conference I've ever been to, especially because the sessions were held on a weekly basis," said Diggs. "This is a valuable service, and I don't know if there's any other place where you could find this."
With the numbers and survey data aside, the most valuable takeaway from these Coffee Breaks was the endless support from everyone who decided to show up and be present, truly helping each other when there was no one else in their communities helping them. The topics may change session to session, but the amount of support remains constant. Trust and relationships are being formed between community leaders across the state, which only makes the future of rural that much brighter.
---
Take Action: The value of the virtual Coffee Break sessions stems largely from who participates in these work sessions. If you're interested in taking part in the next Coffee Break, we invite you to join us each Wednesday from 10:30 – 11:30 AM CT. Reach out to [email protected] to get registered.
Share This Story, Choose Your Platform!