A Note from the President: Looking Back on 2021 & Looking Ahead to 2022
Dear Rural Shapers,
What a year it's been – and what a remarkable 25 years it's been! I hope this message greets you as you anticipate the togetherness of the season, and here's cheers and warm wishes to you and yours from the staff and I at Dakota Resources.
2021 was a big year for Dakota Resources as we celebrated 25 years of impact as an organization.
Governor Noem kicked things off by proclaiming January 2nd as "Thriving Rural Day" across South Dakota. We also honored those 25 years by hosting social gatherings in three communities over three days, with mini celebrations in Rapid City, Aberdeen, and Sioux Falls. It was my first chance to show off my custom "DR 25" Nikes in our new brand colors! Those mini gatherings lead up to the big event–our 25th Anniversary Celebration in September at Buffalo Ridge Brewing in Hartford, SD. It was a community festival-style event, and we even collaborated with Buffalo Ridge to brew a celebratory hazy IPA called "Dakota Silver!" We rounded out the year of celebrating by being part of the annual Christmas Trees at the Capitol event in Pierre–there is at least one VERY colorful tree near the Supreme Court hall at the Capitol.
I'm very proud of the impact all the people involved with Dakota Resources have helped make happen over the years. Many rural communities in and outside South Dakota are thriving more because of the vision that a smart group of people set in action 25 years ago. And that work is stronger than ever right now, thanks to you.
So where are we heading now? One of our big priorities for 2022 and beyond is giving life to a new strategic direction our Board of Directors adopted recently: communicate our impact collaboratively. Here's what we mean by that. You've probably noticed some major changes in the look and feel of Dakota Resources' brand, and some changes to the way we track progress and impact. That's going well. This new focus is about working together with YOU to improve the way we communicate about our impact TOGETHER as both your local community or organization and Dakota Resources. We aim to make it easier for you to talk with whomever you need to about the way you are shaping your rural community for the better.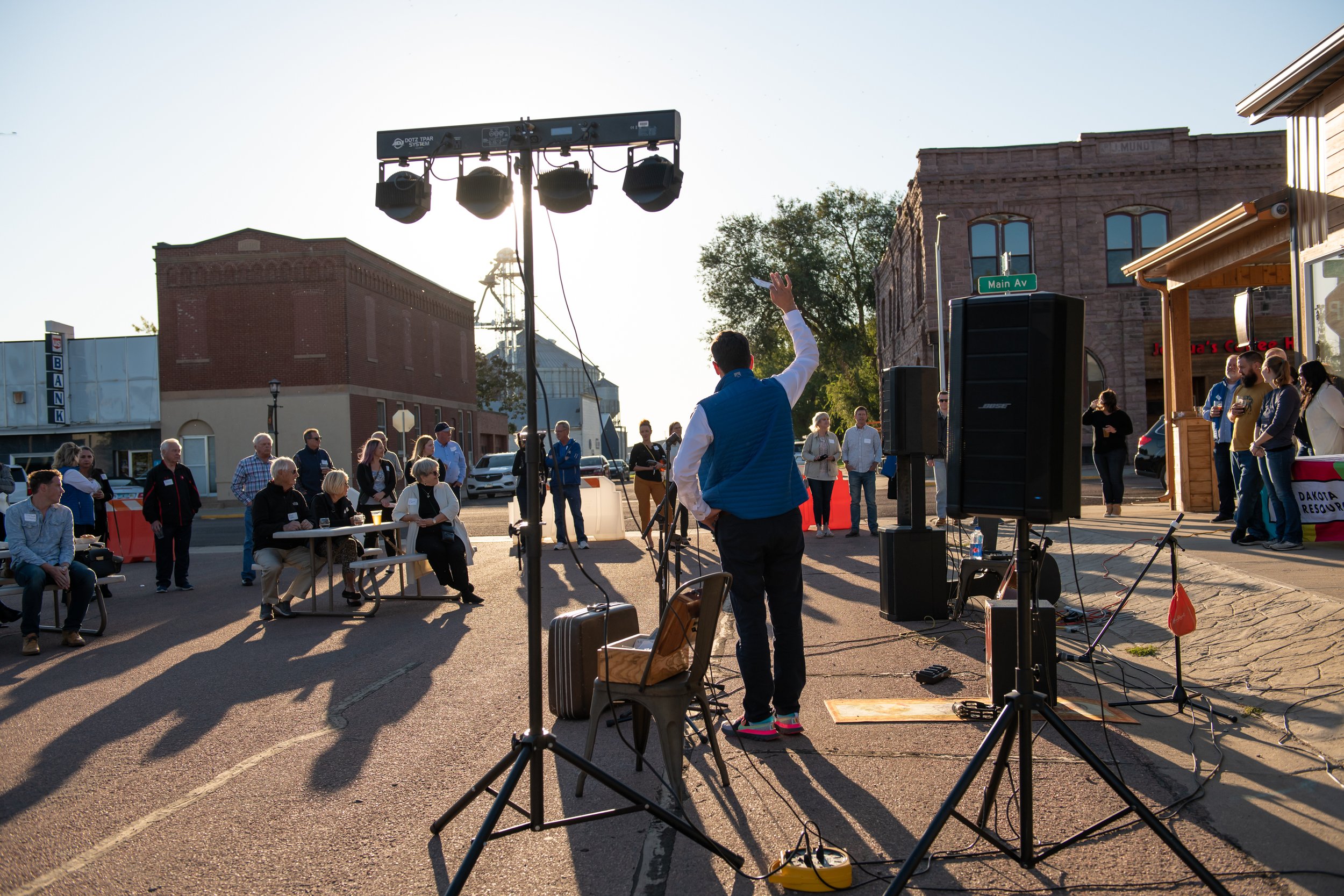 Another big focus for us heading into 2022 is building cultural agility across our mission and operations. That means training our team, our Board, and our community partners to make equity and inclusion front and center in everything we do. It's what our mission tells us to do, and we're committed to making it more true every day.
2022 will also be a year I think we'll look back on one day as a major evolutionary leap for our mission. In January, we're launching Thriverr, our new web-based platform that our Learning Network Program will be built around for years to come. Thriverr will greatly improve the online experience for our current Learning Network members, while also connecting South Dakota's rural shapers with a world of rural economic development leaders, all of whom will be learning and innovating together. Eventually, Thriverr will also use the power of "Web3" technology to create amazing learning and mentoring opportunities and more for our members. I'm so excited for what's possible for all of us now.
As I close this letter to you, I want to thank YOU for all of the work you've done and support you've provided as we've marked 25 years of Dakota Resources. We are so grateful for your continued enthusiasm and dedication to empowering a thriving rural. Happy New Year!
Cheers,
Joe Bartmann
President, Dakota Resources
Share This Story, Choose Your Platform!